Front cover. Photos have been taken using my normal dig' camera, so sorry for quality!
The beautiful Karen Elson
Another favourite, as you can see you have the before and after shots with a in-between clear acetate with the products used labelled and placed in the area used.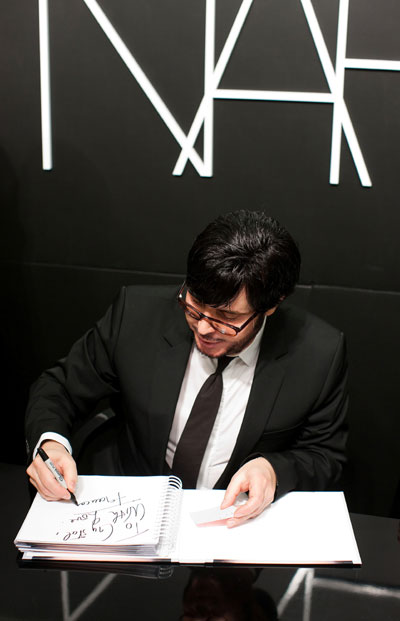 Mr. François Nars...If only it was my book..


OK so I've only had this book since last week but so far I love it! My lovely friend got me this for my birthday (she did ask what I really wanted :p) and I had been planning on getting it for awhile anyway.
There's some pretty in-depth reviews out there already so check out Amazon's reviews for more a more detailed analysis. But heck I'm going to do a more brief review for you.
Unlike most make-up books, MYM differs by showing a before and after shots but with a acetate sheet in-between so that you know specifically where products were placed (all Nars of course).
I think if you are a complete newbie to make-up then this book wouldn't be that great for teaching how to apply products as I think the book presumes you know how to apply products correctly. But if you are bored of your look or needing some inspiration then this book does the job since its sectioned by categories such as eyes, lips, neutrals, pastels, colours etc.
The majority of all the looks are wearable for the everyday women with an occasional "runway" fashion look appearing. I also like that the book features models with a range of different ethnicities and different features which stops the book becoming repetitive.
Even though the book is more image led. Which I prefer as I like to visually analyse images myself to recreate, rather then reading instructions on how to achieve a look. The book still has very useful written pages featuring tips and an insight into François's preferences and philosophy's.
Lastly after speaking to a Nars M.A today apparently MYM 2 is coming out in 6 months time and I think will be featuring 'ordinary' women rather then models. Yay!